AFFILIATE PROGRAM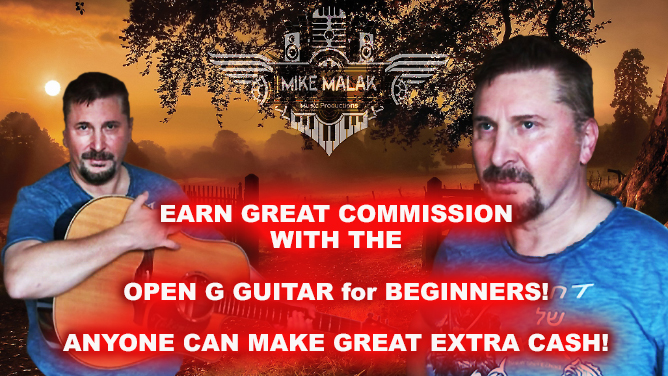 PRODUCT LAUNCH - EXCLUSIVELY ON CLICKBANK
The OPEN G GUITAR for BEGINNERS - a digital video course that teaches even TOTAL BEGINNERS to start playing the guitar within minutes

Even total beginners can start to play the guitar within just a few minutes and play along to songs instantly. PEOPLE WILL LOVE THIS VIDEO COURSE - your clients will be happy you offered them a fast, fun, and easy way to finally start playing the guitar without months and months of painstaking learning the normal "guitar chords". And it's like they sit down with a friend who show them "tricks", riffs, chords that are FUN, EASY and that WORK instantly.
GIVE YOUR CLIENTS A PRODUCT THAT DELIVERS - OPEN G GUITAR for BEGINNERS
WITH THIS NEW VIDEO TRAINING ANYONE CAN START PLAYING GUITAR CHORDS INSTANTLY - WITH JUST 1 FINGER!
FEATURES of this brilliant method of playing the guitar:
- Your clients will experience the power of the "open G tuned guitar" - a method used by rock stars such as Mark Knopfler and Keith Richards on some of their biggest hits ever.
- they will learn how to tune their guitar to "Open G" tuning - this will take a few minutes. Then they will learn how to play guitar with with just ONE FINGER, and be able to play along to songs in a matter of minutes
- in easy steps, they will learn how to play more chords, riffs, sounds, rhythms and strumming patterns, and also picking patterns - that way, ANYONE can very quickly play easy strumming, rock n roll, blues rock, country riffs and more.
- it's like a good friend sits down with your clients, and teaches them a fun and easy way to play songs together.
- the complete package is included: lifetime access to about 6 hours of video course with download possibility, over a dozen playback tracks as MP3 files to play along to, and easy chord charts
- a full tutorial how to play HONKYTONK WOMEN by the Rolling Stones - your clients will be able to play this song the way Keith Richards plays it on Open G guitar! Using this video course, ANYONE can learn how to play this within just a couple of weeks or so, or even less.
- in the final part of this video course, the clients and I will COMPOSE A NEW SIMPLE SONG, to demonstrate how EASY it is to use this Open G method in order to create music! Playback MP3 files, chord charts - everything is included.
- Works with all devices – tested on PC, Mac, iPad, iPhone, Android tablets and phones
- many styles of music can be played in Open G - blues, folk, even rock, hard rock, Texas rock, country and more
- suitable for total beginners or guitar players with experience on the regular "standard E tuning" - ANYONE can now start playing the easy way
- the videos can be accessed directly on our pages, no other software necessary. The MP3 files can be downloaded and used on any device that plays MP3 (iPod, smart phones, tablets, computers etc.)
- videos can be streamed or downloaded.
- having FUN while learning how to play the guitar the easy way is very important. Clients can contact me and ask questions and I will work with them in order to compose a song, help them advance with the course and develop their skills.
- I have about 40 years of experience in teaching guitar skills and composing songs. I offer the best support possible in order to give the clients a great experience.
- "Open G Guitar for Beginners" converts well because clients have GREAT FUN learning how to start playing the guitar FAST and EASY.
---
AFFILIATE PROGRAM
If you already are a Clickbank affiliate, I won't have to tell you how easy it is to earn extra money. However, in case you've never sold products as an affiliate, feel free to contact me, and I will explain to you the fantastic and easy way to earn great money online by simply offering products such as OPEN G GUITAR for BEGINNERS to other people.
YOUR COMMISSION
Open G Guitar for Beginners offers you an incredible 65% commission on all sales. If the customer doesn't purchase on the first visit, Clickbank's sales tracking cookie is active for up to 90 days.
Open G Guitar for Beginner USD 35 ( USD 32.20 after Clickbank fees) - this means you'll earn about USD 21 per each sale!
So just a SINGLE sale per day is already a pretty good extra income for you!
CLICKBANK will handle the sales, red tape and makes sure YOUR COMMISSION WILL REACH YOU, too! This means you can be 100% sure and certain you will get promptly paid. CLICKBANK is one of the most trusted affiliate program managers online on this planet! You payments will reach you on a weekly or bi-monthly basis. Becoming a Clickbank affiliate is free and the set-up is so easy. Simply go to www.clickbank.com and open your free account. It's really easy and set up in a short time.
ONCE YOU HAVE SET UP YOUR CLICKBANK ACCOUNT
- contact me once you are ready to offer OPEN G GUITAR for BEGINNERS to your clients, blog followers, friends etc.
- I will supply you with email swipes, ideas for promotion, banners and other graphics, and tips for promotion
- if you need support on how to create your Clickbank account, how to set it up in order to become an affiliate etc. I can show you easy ways in order to do that.
- Contact me any time, 24/7:

Contact Mike Malak:
(you can use this graphic for your promotion of Open G Guitar)